Here are my Friday Favs for this week:
I've been waiting for these jeans to go on sale for a little while now.. They finally did, so I purchased them along with another pair that I will post in a minute..
These are so cute on and have the distressing in all the right places. I love the hem on these and will be wearing the mess out of them for the next couple of months, before it gets too hot and I'll be wearing shorts..
When I purchased them they were buy 1 get 1 50% off, with an additional $25 off $100 purchase.  Now they're 40% off, which I would've preferred because I really didn't need another pair.. I just wanted the discount…
Here's the second pair I purchased.. I really like the distressing on these but when I put them on, they crotch was too saggy, and I hate that.. I know that I would never wear them if I kept them, so I think they're going back…
Love me some camo… This might be my favorite shirt so far, I cannot get enough of camo.. I also purchased this shirt in the SS verison, which I will show you in a sec.. With this recent purchase I will have this shirt in LS, SS and this tank.. Too much you think? Nah…
I found it at this cute little online Boutique called HER Boutique where I purchased it… If you sign up for their newsletter they send you a code for 17% off.. Plus if you purchase more than $49 the shipping is free, that's why I also purchased the SS shirt…
Here it is in the SS verison … See isn't it super cute? I know I will wear it a ton…
I have never worn Under Armour and I received a coupon from My Fitness Pal for $40 off $100 purchase, so I thought I would try a couple pieces.. I'm always looking for sleeveless shirts to work out in and I'm hoping this one will be cute.. It may look a little short, I have a fairly long torso.
I will let you know once I receive it…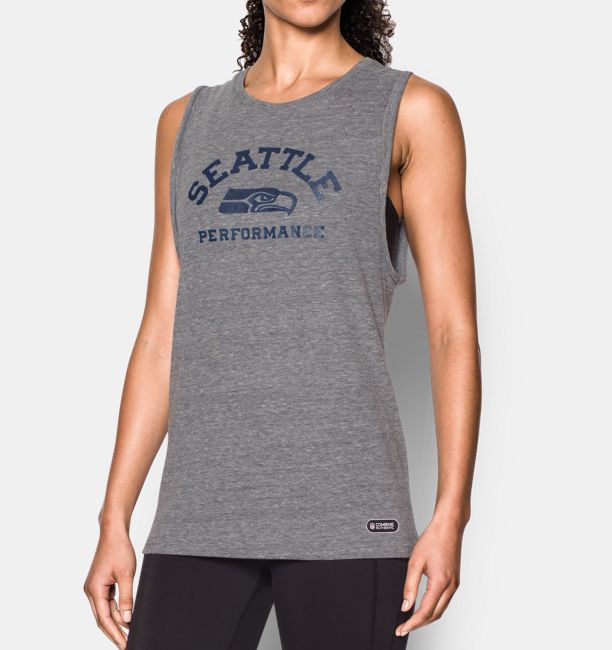 Of course I had to get this shirt, representing my team… Seahawks baby!
It looks really cute and I think it will be long enough….
The last thing I got from Under Armour were these tights. I love the color and wanted something a little different than the normal black I always wear.